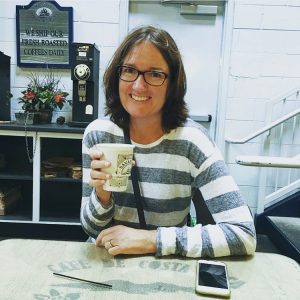 Hi! I'm Rachel McCormack, welcome to my blog, I'm so happy you're here!
I hope you'll take a look around, you'll find quilts in progress, finished quilts, pillows, bags and other handmade projects. I love sharing what I make and what I learn along the way. Find links to all my tutorials (including the Raspberry Kiss block) on the tutorials page, head to the patterns page for my Sugar Loaf Block (right now you need a Bluprint login to access it but I hope to have it available on my site soon).
why sew?
I studied chemical engineering after high school and worked in a scientific role for over 15 years. While working full time I tried out many different creative pursuits, most I tried only briefly but I did spend a few years making coptic bound books for friends and taking photography classes in my spare time. At some point after my second child was born I started sewing, but as I was still working there wasn't a lot of time to sew. When my third child was born I gave up my day job altogether to become a stay at home mum. It was during those lovely stay at home years that I really threw myself into sewing. I'd always thought of myself as "not creative" but at some point I forgot to think that. I began sharing what I made online (first on Flickr and then on Instagram) and discovered a community of like minded creative people that continually inspire and motivate me. I'm so happy that I stumbled on this creative outlet and community, it makes my days productive and fulfilling. It's even led me to my new job, working for Fabco, the New Zealand importers of Robert Kaufman, Free Spirit, Dear Stella, Figo and more, how wonderful is that!
why Wooden Spoon Quilts?
When I started sharing my work on Flickr, I needed a name… I came up with 'wooden spoon'. I love that it's a simple, timeless utensil that my grandmother used in her kitchen and I use almost daily in mine. I can vividly remember standing on a stool at grandma's stove, learning how to stir the pot of porridge with the wooden spoon. When I chose "wooden spoon" I was still figuring out my style but now eight years later, I think it sits perfectly with the style of quilts that I'm drawn to; traditional designs that are simple, humble, nostalgic and above all functional.
Photo credit: Deb Trail